Tur-Duc-Hen Holiday Special

Cranberry/Walnut Cornbread
Tur-Duc-Hen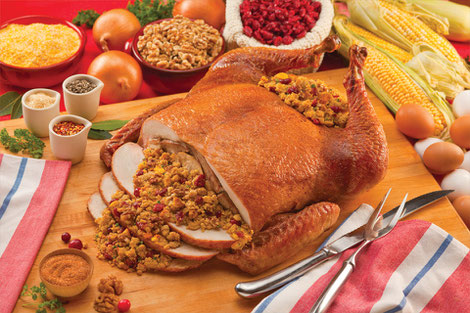 $10 Flat Rate TurDucHen Shipping Through Cyber Monday!
Use this page to order your holiday Tur-Duc-Hen now through Cyber Monday  (November 26, 2012) at midnight to receive $10 Flat Rate ground shipping to anywhere in the U.S.A.
Cooking Directions
For best results, thaw in refrigerator for 48 hours.
Preheat oven to 400 Deg. F. REMOVE TUR-DUC-HEN FROM PACKAGING INCLUDING CRYOVAC POUCH AND FOAM TRAY. Cover and bake with legs pointing up.
IF COMPLETELY THAWED: allow 3 hours to cook.
IF FROZEN: allow up to 3 ¾ hours.
Cook to an internal temperature of 165 deg. Remove cover for last 30 minutes of cooking or until brown. 
TO SERVE: Remove Tur-Duc-Hen from bag. CAUTION: FLUIDS WILL BE HOT.
Remove threading. Carve Tur-Duc-Hen down the middle and then across in one to two inch slices. Serve Hot.
Nutritional Facts
| | | |
| --- | --- | --- |
| Tur-duc-hen (Stuffed with Cranberry Walnut Cornbread) |   |   |
| Serving Size: | 5.5oz. (156g) |   |
| Servings Per Container: | about 44 |   |
| Amount Per Serving |   | % Daily Value |
| Calories: | 220 |   |
| Calories from Fat: | 90 |   |
| Total Fat: | 11g | 17% |
| Saturated Fat: | 2.5g | 13% |
| Trans Fat: | 0g |   |
| Cholesterol: | 90mg | 25% |
| Sodium: | 250mg | 12% |
| Total Carbohydrate: | 4g | 5% |
| Dietary Fiber: | 10g | 40% |
| Sugars: | 0g |   |
| Protein: | 24g |   |
| Vitamin A: |   | 2% |
| Vitamin C: |   | 8% |
| Calcium: |   | 4% |
| Iron: |   | 10% |
Ingredients
Turkey [contains up to 8% solution(turkey broth, salt, sodium phosphates, sugar, flavorings)], cranberry and walnut cornbread dressing {evaporated milk (milk, dipotassium phosphate, carrageenan, vitamin D3), water, enriched bleached wheat flour (bleached flour, niacin, reduced iron, enzymes added to improve baking, thiamine mononitrate, riboflavin, folic acid), cranberry juice, yellow cornmeal(enriched with folic acid), dried cranberries, walnuts, eggs [whole eggs, citric acid (to preserve color), 0.15% water added as carrier for citric acid], margarine [liquid soybean oil, partially hydrogenated soybean oil, water, salt, soy lecithin, vegetable mono and diglycerides, potassium sorbate and citric acid(preservatives), artificial flavor, beta carotene(color), vitamin A palmitate added], baking powder, dried parsley, brown sugar, cinnamon, chicken flavor base[salt, chicken fat, monosodium glutamate, dextrose, enriched wheat flour(wheat flour, malted barley flour, niacin, iron, thiamine mononitrate, riboflavin, folic acid), dehydrated onion, turmeric, soy lecithin, spices, spice extracts, caramel color], chicken, duck, seasoning(salt, red pepper and other spices, garlic, silicon dioxide[to prevent caking])
 
ALLERGEN INFORMATION: Contains milk, eggs, walnuts, soy and wheat