Smoked Sausage & Boudin
Chicken Sausage
Green Onion & Jalapeño 3 lbs.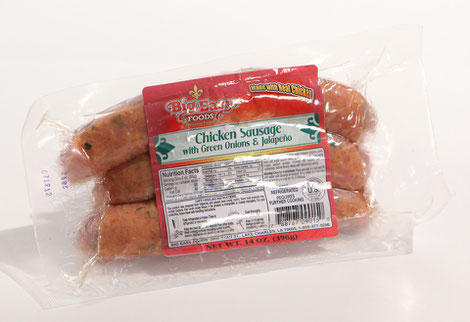 Cooking Directions
Stove-top cooking instructions: Place sausage in a pot and fill with water until sausage is covered. Bring water to a boil, then reduce heat to a simmer for 10 to 15 minutes.
Ingredients
Chicken thigh meat, water, jalapeno peppers, green onion, salt, sugar, garlic, ground red pepper, white pepper, sodium acetate, crushed red pepper, sodium erythorbate, natural flavors. Made with natural hog casing.
Nutritional Facts
| | | |
| --- | --- | --- |
| Chicken Sausage with Green Onions & Jalapeno |   |   |
| Serving Size: | 2oz. (55g) |   |
| Servings Per Container: | about 24 |   |
| Amount Per Serving |   | % Daily Value |
| Calories: | 90 |   |
| Calories from Fat: | 40 |   |
| Total Fat: | 4g | 6% |
| Saturated Fat: | 1g | 6% |
| Trans Fat: | 0g |   |
| Cholesterol: | 40mg | 13% |
| Sodium: | 490mg | 20% |
| Total Carbohydrate: | 2g | 1% |
| Dietary Fiber: | 0g | 0% |
| Sugars: | 1g |   |
| Protein: | 11g |   |
| Vitamin A: |   | 4% |
| Vitamin C: |   | 2% |
| Calcium: |   | 0% |
| Iron: |   | 4% |